AFFA MOVIE NIGHT & TEQUILA TASTING
 ≈ AGAVE IS LIFE ≈
Saturday, June 23, 2018, 8:00 p.m.
At the home of Merry Wheaton & Dick LeVan
3900 Berryhill Way, Austin
Pay at the door: $10 members, $12 non-members
* * * * * 
Attention! AFFA Board Member Ed Jordan has planned some special fun for this event. In honor of agave, he has prepared a tequila tasting, and he is donating an awesome door prize as well. You won't want to miss this!
Addendum: Ed has added to the fun and donated a number of small folk art items (around 45) for a sale, with all proceeds to benefit AFFA! He says that items are "priced from $4 to $22, a couple more than that, but most are priced $8 to $18." Sounds like a deal! (Hint: It would probably be a good idea to bring cash or a check in case you see something you just can't live without.)
* * * * * * * * * *
 

Agave Is Life, about an hour long, is in English. It unveils the 10,000 year-old story of mankind's symbiotic relationship with the agave plant. The agave, native to the Americas, was once a critical resource for survival for indigenous hunter-gathers living in arid regions of the American Southwest and Mesoamerica. 
While contemporary people may know agave only as the source of tequila, for millennia this hardy desert succulent provided all of life's necessities: food, drink, textiles, fuel, shelter, and medicines. As such, it became embedded in myth, religion, art, and culture. For indigenous peoples, it was truly a gift from the gods.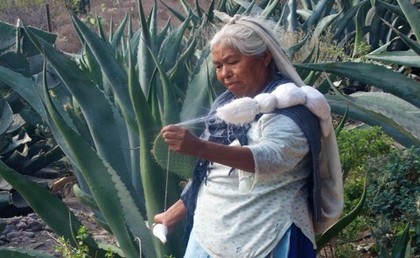 Agave Is Life brings home the fact that agave faces an uncertain future, with ancient folkways, such as fiber craftsmanship and the production of the alcoholic beverages mezcal and pulque, rapidly disappearing.
Agave Is Life is visually enriched by aerial footage, ancient festivals, and mystical rock art. It was produced by Austin's own Archeo Productions, narrated by actor Edward James Olmos, and enhanced by original music by Alvin Ryzen Ramos.